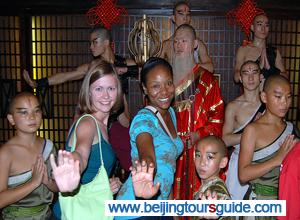 Chinese Kung Fu Show at Red Theater

Day 1 Entry Beijing
Today Arrangement: Our private and English-speaking guide and driver will pick you up in time from the airport and transfer you safely to the hotel. A paper board with the sign of BeijingToursGuide.com and your name will be held high at the airport exit.
Day 2 Beijing
Meal(s): Breakfast, Lunch at Green Flower Porcelain Restaurant, Dinner at Quanjude Roasted Duck Restaurant
Attraction(s): Tiananmen Square, Forbidden City, Temple of Heaven, Silk Factory, Chinese Kung Fu Show
Today Arrangement: Visit theTiananmen Square in the morning, the largest city square in the world; and then the nearby Forbidden City, the world famous majestic palace of Chinese emperors.
The afternoon starts the tour in the Temple of Heaven, a royal temple where emperors held prayer and sacrifice ceremonies to the Heaven for a good harvest. Then leave for the Silk Factory to appreciate the delicate silk processing craft.
After dinner is the thrilling and professional performance of Chinese Kung Fu Show.
Day 3 Beijing
Meal(s): Breakfast, Lunch at Jindian Restaurant
Attraction(s): Badaling Great Wall, Ding Tomb, Jade Fatory
Today Arrangement: After your breakfast, we tour in the Badaling Great Wall, the most popular section of Great Wall, highly praised by President Nixon and Lady Thatcher. After lunch, drive to the Dingling Tomb and explore the mysterious underground palace and appreciate priceless relics, such as the incredibly delicate crown and phoenix coronet.
Hutong Family Visit

Day 4 Beijing
Meal(s): Breakfast, Lunch at Courtyard 7 Restaurant
Attraction(s): Summer Palace, Xiangshan Park, Pearl Factory, Olympic Green
Today Arrangement: Have a stroll in the marvelously beautiful royal garden- the Summer Palace in the morning and also enjoy the cruise in its large Kunming Lake, then transfer to the Xiangshan Park, an ancient royal forest park with mountains, streams, birds, squirrels and royal buildings. The extremely harmonious environment makes your heart relaxed to the full extent.
After lunch, we come to the Pearl Factory to learn the exquisite pearl processing craft. Then leave for the Olympic Green where situated the Beijing new landmarks- the Bird's Nest and the Water Cube. You are able to appreciate their outside appearance but going inside is not included.
Day 5 Depart Beijing
Meal(s): Breakfast, Lunch with Chinese Dumpling at Hutong Family
Attraction(s): Hutong tour with rickshaw
Today Arrangement: A tour to Hutong (where old Beijingers lived) with rickshaw is popular and very meaningful. It is a good way to know the old Beijingers' life. We will pay a visit to the Hutong family, make dumplings together and chatting at the same time; then have our dumplings lunch. So delicious experience!
Then we will transfer you safely to the airport. Wish you a pleasant journey and thank you for using with Beijing Tours Guide.