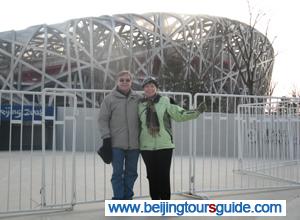 Mr & Mrs Macaulay at Olympic Green

Day 1 Entry Beijing
Meal(s): Dinner at Quanjude Roasted Duck Restaurant
Attraction(s): Temple of Heaven, Tea House, Acrobatics Show
Today Arrangement: Our private English-speaking guide and driver will pick you up in time at the airport. A paper board with the sign of BeijingToursGuide.com and your name will be held high at the airport exit.
Today, we go to appreciate Temple of Heaven and watch the Acrobatics Show. The Temple was where Chinese emperors prayed and sacrificed to Heaven for a good harvest, much larger than the Forbidden City. Then after dinner, you will be strongly impacted by the Acrobatics Show, which is favored as a part of night tour by most Beijing travelers.

Day 2 Beijing
Meal(s): Breakfast, Lunch at Courtyard 7 Restaurant
Attraction(s): Tiananmen Square, Forbidden City, Summer Palace, Silk Factory, Hutong tour with rickshaw
Today Arrangement: Let's begin today's tour in Tiananmen Square, the largest city square in the world and then come to the Forbidden City. The tour in its peculiar Hall of Clocks and Watches is included there.
In the afternoon, we drive to the Summer Palace, an exceptionally beautiful royal garden. A cruise in its Kunming Lake is arranged and will be a wonderful experience. Then transfer to the Silk Factory to learn the delicate silk processing craft.
Finally, tour in the Hutong by rickshaw. Be seated in the rickshaws, we will pass through lines of Hutong, and places of interests included the Drum Tower and Bell Tower. Good way to know more about old Beijingers'life.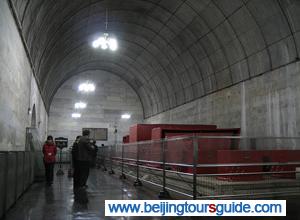 Tomb of Emperor Zhu Yiyun at Dingling
Day 3 Beijing
Meal(s): Breakfast, Lunch at Jindian Restaurant
Attraction(s): Badaling Great Wall, Dingling Tomb, Jade Factory
Today Arrangement: The morning tour is in the Badaling Great Wall, the most popular section of the Great Wall,visited by President Nixon and Lady Thatcher. We spend the afternoon in the Dingling Tomb of the Ming Tombs. There you could see its underground palace which will thrill the tourists for its marvelous tomb construction and priceless relics.
Day 4 Depart Beijing
Meal(s): Breakfast
Today Arrangement: Our guide and driver will transfer you safely to the airport for departure. Wish you a pleasant journey home and thanks for using with Beijing Tours Guide.