Our clients at Mutianyu Great Wall
Day 1 Entry Beijing
Today Arrangement: Pick you up in time at the airport by our private English-speaking guide and driver and transfer you safely to the hotel. A paper board with the sign of BeijingToursGuide.com and your name will be held high at the airport exit.
Day 2 Beijing
Meal(s): Breakfast, Lunch at Xinshuangquan Restaurant, Dinner at Quanjude Roasted Duck Restaurant
Attraction(s): Mutianyu Great Wall, Ming Tombs, Olympic Green, Jade Factory, Chinese Kung Fu Show
Today Arrangement: Any China tour is incomplete without Great Wall. Let's spend the morning in the Mutianyu Great Wall. The section is well-known for its beautiful surrounding landscapes and the peculiar wall shapes integrated with the steep mountains. A round- way cable car takes you up and down the wall to avoid the steep climbs. Afternoon tours start at the Changling Tomb of Ming Tombs to find traces of the Ming Dynasty by this majestic imperial mausoleum complex. Move on to the Olympic Green to pay an exterior visit to the Bird's Nest and Water Cube. In the Jade factory you could learn about the Chinese Jade processing crafts without paying a cent. After a delicious Quanjude roasted duck, enjoy a fantastic Chinese Kung Fu show.
Day 3 Beijing
Meal(s): Breakfast, Lunch at Green Flower Porcelain Restaurant
Attraction(s): Tiananmen Square, Forbidden City, Temple of Heaven, Pearl Factory
Today Arrangement: Continue our exciting tour in Beijing. Tiananmen Square is the largest city square in the world and of great historical significance, where you could see the symbol of China-the ancient majestic Tiananmen Tower. Nearby the square, is the Forbidden City, a world reputed palace of Chinese 24 emperors in Ming and Qing dynasties. The Temple of Heaven, much bigger than the Forbidden City, is a royal temple worshipped by Chinese emperors to pray to heaven for a good harvest. In the Pearl factory, learn about Chinese pearl culture and appreciate the dazzling exquisite pearls.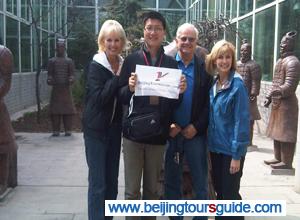 Smith's Family and Our Tour Guide at Terracotta Warriors
Day 4 Beijing-Xian
Meal(s): Breakfast, Lunch at Courtyard 7 Restaurant
Attraction(s): Hutong tour with rickshaw, Beijing Zoo (Panda Hall), Summer Palace, Silk Factory
Today Arrangement: No place is better to read about the Old Beijing life than in the Hutongs, where old Beijingers lived and are still lived by local people. Have a rickshaw trip in the Hutong allies and drop in at a local Hutong family. Transfer to Beijing Zoo to see the cute pandas. Having a stroll in the Summer Palace is a good choice to relax your heart. In the Silk factory, the silk-making process is demonstrated. After the tour, transfer to railway station and take an overnight soft sleeper train to Xian. (Our quotation is based on 4-bed-cabin train tickets, if you'd like to take the 2-bed-luxury cabin or flight to Xian, please let us know, we will arrange for you.)

Day 5 Xian
Meal(s): Breakfast, Lunch at local restaurant
Attractions: Terra-cotta Warriors, Big Wild Goose Pagoda, Xian City Wall
Today Arrangement: Be picked up from Xian railway station start the Xian journey. The Terracotta Warriors and Horses is one of the most significant archeological finds of the 20th century. These 6000 life-size painted terracotta warrior and horses shape into a imposing underground army. Big Wild Goose Pagoda is a symbol of the old-line Xian, a well-preserved ancient building and a holy place for Buddhists. Xian City Wall, as a main attraction of Xian, is one of the largest ancient military defensive systems in the world.
Day 6 Xian-Beijing-Exit
Meal(s): Breakfast
Today Arrangement: Our guide and driver will transfer you safely to the airport. Take the flight back to Beijing (Our quotation includes airfare). End of our service. Thanks for using with Beijing Tours Guide. Interested in more experience in Beijing and Xian? Please visit our company another website at: http://www.beijingxiantour.com/