Day 1 Entry Beijing
Today Arrangement: Pick you up in time at the airport and transfer you safely to the hotel. A paper board with the sign of BeijingToursGuide.com and your name will be held high at the airport exit.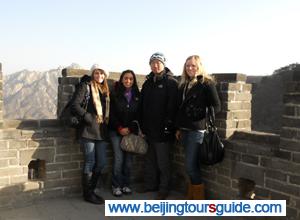 Our clients at Great Wall
Day 2 Beijing
Meal(s): Breakfast, Lunch at Green Flower Porcelain Restaurant, Dinner at Quanjude Roasted Duck Restaurant
Attraction(s): Tiananmen Square, Forbidden City, Beihai Park, Temple of Heaven, Silk Factory, Chinese Kung Fu Show
Today Arrangement: Arrive in the Tiananmen Square, the largest city square in the world. Then is the nearby must-see attraction- the Forbidden City, the world well-known royal palace.Move on to the nearby Beihai Park, an ancient Chinese classic garden.
The afternoon tour starts in the Temple of Heaven, a royal temple where emperors held prayer and sacrifice ceremonies to the Heaven for a good harvest. After the tasty Peking duck dinner, you are going to watch the Chinese Kung Fu Show. All the audience will applaud and cheer for the professional and fantastic performance.
Day 3 Beijing
Meal(s): Breakfast, Lunch at Xinshuangquan Restaurant
Attraction(s): Mutianyu Great Wall, Jade Factory, Hutong tour with rickshaw
Today Arrangement: Have a fresh morning in Mutianyu Great Wall, the most spectacular section of Great Wall but less crowded. A round way cable car helps you reach the wall and get down and by this you will overlook the large amount of dense trees and the zigzag mountains. What a marvelous experience!
In the afternoon, have a interesting Hutong tour with rickshaw, to discover the old Beijingers' life by visiting the old hutong alleys, the local hutong family and their courtyard residence.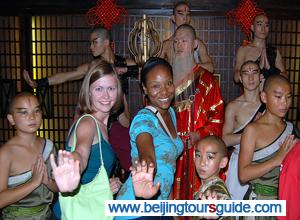 Chinese Kung Fu Show at Red Theater
Day 4 Depart Beijing
Meal(s): Breakfast, Lunch at Courtyard 7 Restaurant
Attraction(s): Summer Palace, Olympic Green, Pearl Factory
Today Arrangement: It is really a pleasant morning to be immersed in the world reputed royal garden- the Summer Palace; also enjoy a cruise in the Kunming Lake for its surpassing beauty.
Finally is the tour in the Olympics Green where you could see the exterior appearance of the Bird's Nest and the Water Cube (going inside is not included).
After lunch, our guide and driver will transfer you safely to the airport for departure. Wish you a pleasant journey and thanks for using with Beijing Tours Guide.