Day 1 Entry Beijing
Today Arrangement: Welcome to Beijing! Our private English-speaking guide and driver will pick you up in time at the Beijing airport and transfer you safely to the hotel. A paper board with the sign of BeijingToursGuide.com and your name will be held high at the airport exit. The rest of the day is free at your own leisure.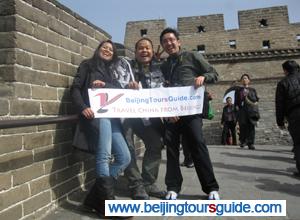 Tour to Great Wall

Day 2 Beijing
Meal(s): Breakfast, Lunch at Green Flower Porcelain Restaurant
Attraction(s): Tiananmen Square, Forbidden City, Hutong tour with rickshaw, Silk Factory
Today Arrangement: Today, we are going to visit the Tiananmen Square, Forbidden City and take a Hutong tour with rickshaw. Tiananmen Square is a symbol of China, where many historical events took place. Forbidden City, as a palace of 24 Chinese emperors, is a reputed palace in the world and a World Culture Heritage. The Hutong tour leads you to the old town of Beijing; you can have a pleasant rickshaw ride along the old alleys and stop by a local Hutong family to learn about old Beijingers' life as well as see the special residence courtyard.
Day 3 Beijing
Meal(s): Breakfast, Lunch at Xinshuangquan Restaurant
Attraction(s): Mutianyu Great Wall, Temple of Heaven, Cloisonné Factory
Today Arrangement: We will drive to the Mutianyu Great Wall (about 2.5 hours drive). Mutianyu Great Wall is the most spectacular section of Great Wall and less crowded. A cable car will help you reach a good part of the wall for you to climb and enjoy the superb views. You can return either by cable car or an exciting toboggan ride. Move on to the Cloisonné Factory, where you are able to watch the delicate cloisonné making process and appreciate the dazzling showroom. Have a local Chinese lunch and then drive back downtown to the Temple of Heaven, a large royal temple where the emperors held sacrifice ceremonies to Heaven for a good harvest.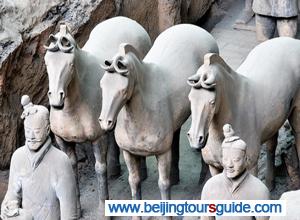 Terracotta Warriors Xian

Day 4 Beijing-Xian
Meal(s): Breakfast, Lunch at Courtyard 7 Restaurant
Attraction(s): Summer Palace, Olympic Green
Today Arrangement: Today we shall visit the Summer Palace and Olympic Green before flying to Xian. Sumer Palace is an extremely beautiful imperial garden; a lake cruise is included. Pay an exterior to the Bird's Nest and Water Cube in Olympic Green, new landmarks of Beijing after the 2008 Olympics.
Be transferred to Beijing airport and fly out to Xian. Upon arrival at Xian airport, be picked up by the local guide and escorted to your hotel in Xian.
Day 5 Xian
Meal(s): Breakfast
Attraction(s): World Horticultural Expo
Today Arrangement: Full day tour to the 2011World Horticultural Expo Xian. The Expo is themed as "Eternal Peace & Harmony between Nature & Mankind, Nurturing the Future Earth". The event lasts from April 28-October 22 and is expected to attract 10 million people to Xian. It is an communication window for keen gardeners and horticulturists as well as gardening lovers. Here you can learn more about gardening and especially about Chinese style garden. China has its way to impress the world and the Expo would become an unforgettable memory of you.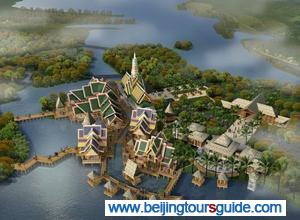 Forest of Stone Steles Museum

Day 6 Xian
Meal(s): Breakfast, Lunch at Lunch at A Wa Shan Zhai Restaurant (Qinling Branch)
Attraction (s): Terracotta Warrior and Horses, Big Wild Goose Pagoda, Ancient City Wall, Terracotta Warriors factory
Today Arrangement: Today, let's visit the representative attractions in Xian. The Terracotta Warriors and Horses is one of the most significant archeological finds of the 20th century. These 6000 life-size painted terracotta warrior and horses shape into an imposing underground army. Big Wild Goose Pagoda is a symbol of the old-line Xian, a well-preserved ancient building and a holy place for Buddhists. Xian City Wall, as a main attraction of Xian, is one of the largest ancient military defensive systems in the world. In the Terracotta Warriors factory, you are going to watch the handmade process of the copies of terracotta warriors. You could also choose to buy some copies as souvenirs but it is not forced.
Day 7 Xian-Beijing-Exit
Meal(s): Breakfast
Today Arrangement: Be transferred to Xian airport to fly back to Beijing airport. Fly out Beijing to your home. We wish you have a pleasant journey home and thank you for using with Beijing Tours Guide.
Interested in more experience in Beijing and Xian? Please visit our company another website at: http://www.beijingxiantour.com/